Danabparrot

Add Danabparrot as a friend

Danabparrot will be notified and will have to accept this friendship request, to view updates from Danabparrot and their ratings you must follow them.

Remove Danabparrot as a friend



Lists
Favorite music
(1 item)
Music list by Danabparrot
Last updated 10 years, 7 months ago
Favorite books
(1 item)
Book list by Danabparrot
Last updated 10 years, 7 months ago
Recent reviews

Posted : 10 years, 7 months ago on 24 November 2007 06:45 (A review of
Christmas Eve and Other Stories
)
I get very tired of Christmas music but this is a great collection that you want to hear again and again.

0 comments,
Reply to this entry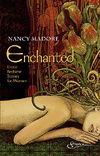 Posted : 10 years, 7 months ago on 24 November 2007 06:42 (A review of
Enchanted: Erotic Bedtime Stories For Women
)
Rightly named for bedtime reading, this is feel good erotica at its best. I keep it by the bed.

0 comments,
Reply to this entry
Music
Books
Comments